Stevie Nicks, San Jose State & Fleetwood Mac
"It's pretty darn good to be back in my own specific and very special hood," she said. "This is where it all started, and I had to take a minute to let you know that." Stevie Nicks Nov. 21, 2018
The San Jose concert was particularly special for singer Stevie Nicks, who turned 70 this year but hasn't ditched her shawls or heels. It was a homecoming of sorts for Nicks, who took several moments to give the city a proper shout-out. Born in Phoenix, she attended San Jose State University and made some of her first recordings in the Bay Area.
"It's pretty darn good to be back in my own specific and very special hood," she said. "This is where it all started, and I had to take a minute to let you know that."
Wow! Stevie Nicks kinda lost it here… Said it's her nerves playing in San Jose #FleetwoodMac #Landslide pic.twitter.com/54YIBwSyEE

— Mariecar Mendoza (@SFMarMendoza) November 22, 2018
Nicks graduated from Menlo-Atherton High School, where during her senior year she met her future musical and romantic partner, Lindsey Buckingham. As a duo, they made their first demo recordings in Daly City while they attended San Jose State University.
Greg Kihn, 98.5 KFOX Interview with Lindsey Buckingham 2008
Additional Did You Know's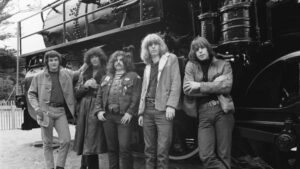 The band's members began their musical journey largely in the South Bay – leading epically to their first show under the "Grateful Dead" name at a house in downtown San Jose.