Los Gatos' Chateau Liberte: Lights. Camera. Reaction.
The Chateau Liberte' a feature documentary. The Chateau was a rustic mountain bar ran by Hells Angels where great rock bands played in the 60's/70's. It was also a hippie commune with its own self-sustained way of life.
This video produced for The New Museum of Los Gatos is for educational purposes only. This video preview is also on exhibition at the museum. The Chateau Liberte' was a rustic mountain nightclub and hippie commune in the 1960's and 1970's. The Chateau Liberte' was operated in part by The Gypsy Jokers and Hells Angels motorcycle clubs. There were dozens of people living on the 72 acre property in the Santa Cruz Mountains of California. Many famous rock bands performed at The Chateau Liberte' including the Doobie Brothers, The Tubes, Hot Tuna, Moby Grape, Sons of Champlin, Kingfish, Jerry Garcia, Tower of Power, Timbercreek and many more. Rock stars including Jerry Garcia, Skip Spence and others lived there. Legendary artist Captain Whizzo also lived there for almost a decade. Captain Whizzo light shows were seen around the world up to the 1990's.
The structure was first built in 1865 and was the stagecoach stop between San Jose and Santa Cruz, California. It went through many changes and had many names as a speakeasy during prohibition and a bordello before it was called The Chateau Liberte'. Director W.J. McKay of Goth Mountain Films is producing a feature length documentary film on the Chateau LIberte' and this preview is a twenty minute long sample of the film. Please subscribe to stay in touch with our videos and the progress of this film. The channel owner claims no rights to some of the music in this video.
Additional Did You Know's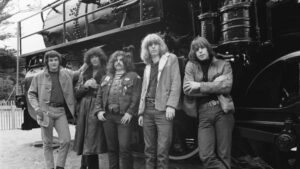 The band's members began their musical journey largely in the South Bay – leading epically to their first show under the "Grateful Dead" name at a house in downtown San Jose.