Los Tigres Del Norte: the Beatles of Mexican music.
With half a dozen Grammys and sales in the tens of millions, able to pack arenas all over the country, Los Tigres del Norte—The Tigers of the North— is the most famous band mainstream America never heard of.
From Wikiepdia.
The band was started by Rosa Morada, Mocorito, Sinaloa, Mexico natives Jorge Hernández, his brothers, and their cousins. They then began recording after moving to San Jose, California in the late 1960s, when all the members were still in their teens.[1] They were sponsored by a local record company, Discos Fama, owned by an Englishman named Art Walker, who took them under his wing and helped them find jobs and material, as well as recording all of their early albums.[1]
The Tigres were at first only locally popular, but took off after Jorge and Art Walker heard a Los Angeles mariachi singer perform a song in the early 1971 about a couple of drug runners, Emilio Varela and Camelia la Texana. There had been occasional ballads (corridos, in Mexican terminology) about the cross-border drug trade ever since Prohibition in the 1920s, but never a song as cinematic as this, featuring a woman smuggler who shoots the man and takes off with the money. After getting permission to record this song, Los Tigres del Norte released "Contrabando y traición" ("Contraband and Betrayal") in 1974.[2] The song quickly hit on both sides of the border, inspired a series of movies, and kicked off one of the most remarkable careers in Spanish-language music.
In norteño form, Los Tigres del Norte have been able to portray "real life" in a manner that strikes a chord with people across the Americas. Many of their most popular songs consist of tales or corridos about life, love, and the struggle to survive in an imperfect world. They regularly touch on the subject of narcotics and illegal immigration, but they have also shared stories of love and betrayal between a man and a woman. Together, the band and its public has turned norteño music into an international genre. The band has modernized the music, infusing it with bolero, cumbia, rock rhythms, and waltzes. They also prominently incorporate a saxophone into some of their songs. As a result, it can be said that they also perform norteño-sax in addition to traditional accordion-led norteño.
On January 9, 2007, Los Tigres del Norte was honored as a BMI Icon at the 14th annual BMI Latin Awards. Los Tigres, who were saluted that evening with an all-star musical tribute, were being honored as BMI Icons for their "unique and indelible influence on generations of music makers." They joined an elite list that includes such Latin music giants as Juan Luis Guerra and Carlos Santana.[3]
On October 16, 2009, Los Tigres del Norte held a Concert in Guadalupe, Nuevo León (outside of Monterrey) at the Annual Expo Guadalupe that lasted 12 hours, breaking their own record of 9 hours from previous year. It began on Saturday night and ended on Sunday at 9 a.m., not uncommon for Los Tigres del Norte. They are known for having encores at their concerts that can last more than an hour after the scheduled ending of the concert.
They have performed before the United States Armed Forces in Japan and South Korea.[4]
In 2010, the band made headlines by joining in a massive international boycott of the U.S. state of Arizona, in response to the Support Our Law Enforcement and Safe Neighborhoods Act.[5]
On October 8, 2013, Los Tigres del Norte played at an immigration reform rally on the National Mall in Washington, D.C. Their setlist included songs that underscored the themes the rally would address including "La Puerta Negra (1986)," "De Paisano a Paisano (2000)," and "Mis Dos Patrias." The band was introduced by then Minority Leader Nancy Pelosi (D-Calif.) Mexican-American singer-songwriter and actress, Lila Downs, also accompanied the group in a series of duets.[6]
In 2014 Los Tigres del Norte released the album Realidades, which contains the song "Era Diferente" (meaning "She Was Different") about a lesbian teenager who falls in love with her best friend; according to lead singer and songwriter Jorge Hernández, this is the first time a norteño group has ever written a gay love song.[7][8]
The band had sold 32 million records as of 2007.[9] As of 2015, they had won 7 Grammy Awards, 6 Latin Grammy Awards, and a star on the Hollywood Walk of Fame.[10][8] They received the Special Recognition (Spanish language) Award at the 26th annual GLAAD Media Awards in 2015, for their song "Era Diferente" ("She Was Different").[11] The band ranked at number 15 in the list for "The 30 Most Influential Latin Artists of All Time" by Billboard magazine.[12]
In 2018, many artists sought permission to record at Folsom prison, more so for the 50th anniversary of Johnny Cash's. However, Los Tigres del Norte was the only act authorized by the California Department of Corrections and Rehabilitation. In fact, Los Tigres are the only band to record an album at Folsom since Johnny Cash released his 1968 opus.[13]
All group members are naturalized American citizens.[14]
The group's lyrics have been cited as examples of Leftist sentiment in popular music.[15]
Additional Did You Know's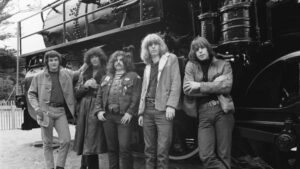 The band's members began their musical journey largely in the South Bay – leading epically to their first show under the "Grateful Dead" name at a house in downtown San Jose.