Hal David Knew the Way to San Jose
The song earned Dionne Warwick her first Grammy and sold over 3.5 million copies.
Harold Lane David (May 25, 1921 – September 1, 2012) was an American lyricist best known for his collaborations with composer Burt Bacharach and his association with Dionne Warwick. Hal was stationed in the Navy north of San Jose during World War II.
"Do You Know the Way to San Jose" is a 1968 popular song written and composed for singer Dionne Warwick by Burt Bacharach. Hal David wrote the lyrics. The song was Warwick's biggest international hit to that point, selling several million copies worldwide and winning Warwick her first Grammy Award. David's lyrics tell the story of a native of San Jose, California, who, having failed to break into the entertainment field in Los Angeles, is set to return to her hometown.
Hal David, the Oscar- and Grammy-winning lyricist who in the 1960s and '70s gave pop music vernacular the questions "What's it all about?," "What's new, pussycat?," "Do you know the way to San Jose?" and "What do you get when you fall in love?," died on Saturday in Los Angeles. He was 91 and lived in Los Angeles.
The cause was a stroke, according to his wife, Eunice, who said he died at Cedars-Sinai Medical Center.
Mr. David, whose lyrics could be anguished pleas, wistful yearnings, sexy mash notes or wry musings — sometimes all four in the same song — was best known for the long strand of hits that he and the composer Burt Bacharach wrote for Dionne Warwick.
He was something of a late bloomer: he did not have his first Top 10 hit with Mr. Bacharach — "Magic Moments," recorded by Perry Como — until 1958, when Mr. David was in his late 30s. His greatest achievements came well after he turned 40, when many other successful songwriters were half his age and many young performers were writing their own songs. (His first Top 10 song was "The Four Winds and the Seven Seas," recorded by Sammy Kaye and His Orchestra in 1949.)
Mr. David's words also found fertile ground on Broadway, in the hit musical "Promises, Promises"; in the movies, in the Oscar-winning song "Raindrops Keep Fallin' on My Head" from "Butch Cassidy and the Sundance Kid"; and even at weddings, in the classic first-dance song "(They Long to Be) Close to You."
If Mr. David and Mr. Bacharach's oeuvre was more cosmopolitan and less hip than that of the Beatles or Bob Dylan, their ruminations on love and heartbreak have nonetheless endured; after all, not everyone went to Woodstock. Their alternate '60s was populated on the one hand by the turtleneck-and-martini set, embodied by the likes of Tom Jones (who had a hit with "What's New, Pussycat?") or the debonair Mr. Bacharach himself; and on the other hand by the Everywoman just breaking in her first pair of workplace shoes, like the protagonist of "I Say a Little Prayer," who runs "for the bus, dear" and while riding thinks "of us, dear."
"I Say a Little Prayer," a No. 4 hit in 1967, was the most successful of the three dozen or so singles that Mr. David and Mr. Bacharach wrote and produced for Ms. Warwick, whom they met in 1961 when they were journeymen on the New York music-publishing scene and she was a 20-year-old backup singer.
After she sang on some demo recordings of their songs, a disgruntled Ms. Warwick complained to them, "Don't make me over, man." Mr. David turned that line into a full lyric, with an unusual (for the time) feminist stance, and Ms. Warwick's recording of the resulting song, "Don't Make Me Over," became her first hit, in early 1963. From then until mid-1971, rarely a month went by when the troika were not represented on the Billboard singles chart, with charismatic hits like "Walk On By," "Message to Michael," "Alfie" and "I'll Never Fall in Love Again."
With Ms. Warwick's voice in place, Mr. David found his own — writing with the intense romanticism of the Tin Pan Alley songwriters he grew up admiring, but replacing the literary curlicues of, say, Lorenz Hart or Oscar Hammerstein II with a conversational emotionalism.
Many years later, Mr. David wrote on his Web site that he strove for "believability, simplicity and emotional impact" in his lyrics. His words, combined with the slaloms of Mr. Bacharach's melodies and rhythms, often drew — and required — the most skilled technicians and interpreters of the time. Among them were Dusty Springfield ("Wishin' and Hopin'," "The Look of Love"), Gene Pitney ("Twenty Four Hours From Tulsa") and Karen Carpenter ("Close to You").
The two men's songs became so popular that they were also recorded by performers not known for their singing, like the actor Richard Chamberlain, who did a recording of "(They Long to Be) Close to You" in 1963, and the trumpeter Herb Alpert, who oddly gave Mr. David his first No. 1 hit, in June 1968, with "This Guy's in Love With You."
Geoffrey O'Brien, reviewing the Bacharach-David body of work in The New York Review of Books in 1999, called Mr. David's lyrics "a peculiar blend" in which "the encroachments of the maudlin are generally kept at bay by the dexterity of the rhymes." The fecundity and chemistry of the Bacharach-David team were often attributed by both men to their tireless, dedicated work ethic.
"Hal is so intense," Mr. Bacharach said in a documentary on the cable channel A&E in the 1990s, adding that Mr. David liked working with people who "torture themselves, just like me."
In other ways Mr. David and Mr. Bacharach could not have been more different: Mr. Bacharach was something of a jet-setter and was married to the actress Angie Dickinson; Mr. David was a button-down commuter who took the Long Island Rail Road. But Mr. David said their differences enhanced the eclecticism of their songs.
"We didn't say, 'We can't do this because the range is so great,' or 'Who is going to sing it?' or 'Is this commercial?' " Mr. David told the music journalist Paul Grein in 1998. "We just wrote."
Though Mr. Bacharach had the higher profile, Ms. Warwick has said that Mr. David was "the more stabilizing force" of the team and the one "who really got things done for us."
Like practically all pop songwriters, Mr. David treaded most successfully on breakup-and-makeup terrain, but he would sometimes veer gently into political or social themes. "What the World Needs Now (Is Love)," which took Mr. David almost two years to write, reached the Top 10 in 1965 as sung by Jackie DeShannon and went on to be recorded by more than 150 performers. In "Paper Maché" (1970), recorded by Ms. Warwick, Mr. David skewered middle-class materialism with a sharpened Popsicle stick ("There's a sale on happiness; you buy two, and it costs less"). And "The Windows of the World" reflected the country's growing anxiety with the Vietnam War. Though it was only a modest hit (again for Ms. Warwick), it was one of Mr. David's favorites, perhaps because of a personal connection: when he wrote the lyrics in 1967, he had a son, Jim, nearing draft age.
He and Mr. David's other son, Craig, survive him, as does his wife, Eunice, and three grandchildren. His first wife, Anne, died in 1987.
Harold Lane David was born in Manhattan on May 25, 1921, a son of Austrian-Jewish immigrants who owned a delicatessen in Brooklyn. One of his brothers, Mack, nine years older, became a successful songwriter first, writing "I Don't Care if the Sun Don't Shine" for Patti Page and the lyrics for "I'm Just a Lucky So-and-So," which was recorded by Tony Bennett and Ella Fitzgerald, among others.
When Mr. David wanted to follow in his brother's footsteps, Mack David discouraged him, and Mr. David became an advertising copywriter for The New York Post. After wartime service in the Army, during which he wrote songs, skits and plays, Mr. David was determined to make songwriting his career.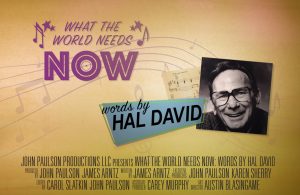 Thanks to Kathy Royer for contributing to this 'Did You Know'.
Additional Did You Know's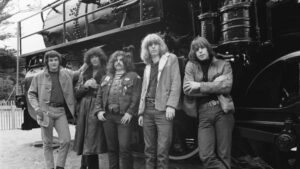 The band's members began their musical journey largely in the South Bay – leading epically to their first show under the "Grateful Dead" name at a house in downtown San Jose.