How San Jose Became Dead First — And Hosted The Band's Debut Performance
December 4, 1965: The Grateful Dead's first performance as the Grateful Dead occurred in a home in downtown San Jose now the site of San Jose's City Hall.
HOW SAN JOSE BECAME DEAD FIRST IN ROCK HISTORY
By Mark Purdy, September 2021
By any measure, the night of December 4, 1965, is one of rock and roll's most significant dates – which makes the address of 43 South Fifth Street in San Jose one of the world's most historic musical spots.
On that evening, at that address, the Grateful Dead played its very first show at a wild, free-spirited, crazy-costumed "Acid Test" organized by LSD enthusiast and author Ken Kesey, a Stanford graduate student.
Kesey, already a known South Bay provocateur who led a group of fellow off-center souls known as the "Pranksters," selected the location because he wanted to leverage the local visit of another soon-to-be legendary band, The Rolling Stones.  The Stones were playing a concert that evening at San Jose Civic Auditorium, eight blocks away from the house on Fifth Street near the San Jose State campus.
Kesey sent his "Pranksters" to the steps of the Civic Auditorium, where they passed out invitations to the "Acid Test" as concert goers left the Rolling Stones show.
By then, Kesey had dressed up the Fifth Street house with colored lights and echoing sound equipment for a trippy visual/audio experience and had hired the Palo Alto band that had played a few gigs under its previous name of "The Warlocks."  Just days before, group members had decided to rename themselves as "The Grateful Dead."
Because no single room in the house was big enough to hold the entire band, the nascent Dead set up their equipment in adjoining first floor rooms and began cranking out their songs. The flamboyant  crowd began gyrating.  According to Rolling Stone bassist Bill Wyman's autobiography, bandmates Keith Richards and Brian Jones stopped by the party to see what was happening, although Richards would later say he doesn't remember being there.  Maybe that's not surprising.  With people imbibing and smoking various substances, both downstairs and upstairs and in the crawl space beneath the home, the "Acid Test" and the music rolled on until 3 a.m. before breaking up.
For the Grateful Dead, who were en route to becoming psychedelic and Americana legends, the long, strange trip had officially begun.
Related Articles
What Say You Mark?
"When I moved to San Jose in 1984, I was fascinated to learn that it was the often-uncredited spawning ground for so much great rock music of the 60's and 70's. It turns out that while San Francisco was busy admiring itself in the mirror, San Jose was doing a lot of awesome grunt work to construct the framework of that era's Bay Area sound. For me, researching and documenting the origins of the South Bay bands and the music they created has been a fun archeological expedition. If San Francisco is considered the King Tut's tomb of Bay Area rock history, then the South Bay and San Jose are the tomb's antechambers full of glorious untold treasure. San Jose Rocks exists to explore and honor that treasure."
About Mark Purdy
Mark Purdy spent 43 years as a sports reporter and columnist for the San Jose Mercury News, Los Angeles Times, Cincinnati Enquirer and Chicago Tribune. But in addition to covering 14 Olympic Games and 34 Super Bowls, he also wrote stories or news columns about politics, music and food. He had lunch with Muhammad Ali, played golf with Neil Armstrong and discussed baseball with Alice Cooper. Since his 2017 retirement from the Mercury News, he has taught at San Jose State and Santa Clara University while also writing freelance magazine articles and video scripts. On multiple occasions during his career, Purdy was named one of America's Top 10 sports columnists by the Associated Press Sports Editors and was cited by the Wall Street Journal for writing one of America's Top 10 sports columns. In 2011, the California Newspaper Publishers Association honored him for writing the state's best newspaper column in any category.  He was a member of the Mercury News staff that received a Pulitzer Prize for its coverage of the 1989 Loma Prieta "World Series" earthquake that struck just before Game Three at Candlestick Park. Purdy is a native of Celina, Ohio, and a graduate of Northwestern University's Medill School of Journalism.
Update
A ceremony, marking the 50th anniversary of the Grateful Dead's first performance, was held at City of San José's City Hall on December 4, 2015. An effort will begin soon to seek official landmark status of San Jose's City Hall as the Grateful Dead's first performance as the Grateful Dead.  San Jose rocks organizers are grateful to San Jose Mayor Sam Liccardo for his support.
Additional Did You Know's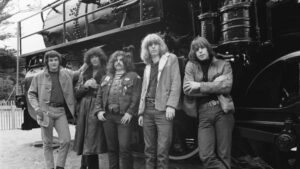 The band's members began their musical journey largely in the South Bay – leading epically to their first show under the "Grateful Dead" name at a house in downtown San Jose.