Chuck Berry not Born in San Jose
"Charles Edward Anderson Berry, 18 October 1926, San Jose, California, USA (although Berry states that he was born in St. Louis, Missouri)." The 1930 Census does in fact list him as being born in St. Louis however…
… as the story goes, just as Chuck Berry's career was taking off, his manager Wanted to shave a year off of Chuck Berry's life and give him a more "exotic" sounding place of birth other than East St. Louis. So in the book 'Windemere Place', there's a quote from Chuck Berry's assistant, "I was 21," Francine Gillium recalled, "and I was here a year and we had already established our offices, a nightclub… we were owning and operating two corporations." But one of her first tasks as Berry's new employee was to draft a press release detailing information about Berry's life and career to date. At her employer's dictate, Francine dutifully typed the fact that he had been born in San Jose in 1931.
Additional Did You Know's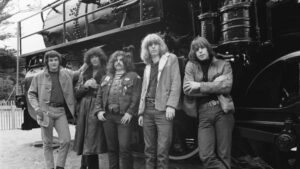 The band's members began their musical journey largely in the South Bay – leading epically to their first show under the "Grateful Dead" name at a house in downtown San Jose.