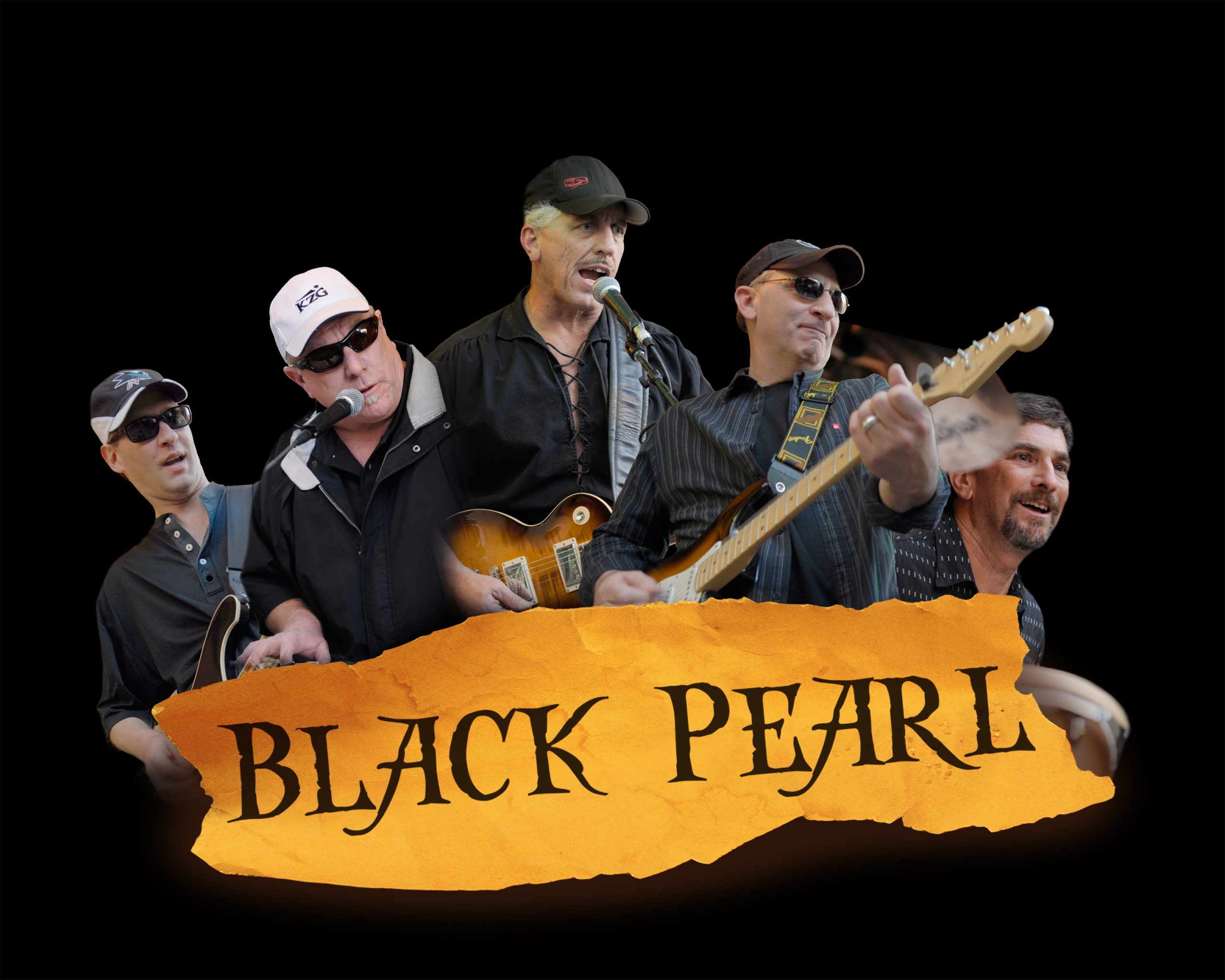 "Black Pearl was born through of a love of music, friendship and FUN!." Joe Scuncio
Black Pearl
By Joe Scuncio, Commercial Real Estate Agent, Guitar and Vocals, Black Pearl
March 8, 2021
So, where did Black Pearl begin? SAN JOSE of course!
I first met our lead singer, Jim Salata, Fullerton, CA in the late 1970's via my then girlfriend (now my wife), Andrea Whittaker. We played acoustic guitar then but eventually Jim moved north to San Jose for business. Andrea and I moved up to San Jose in 1983, me for business and her for graduate school.
I first met our drummer, Dan Orloff, in the commercial real estate business and continued a great business and friendship over the years.
The formation of Black Pearl actually began with a meeting at "840 North First Street", a restaurant in San Jose, in 1994. There we met Harold Lee, an established bass player, one heck of a bartender and a really great person! In designing a plan to move forward to build a band, we were directed to another local musician, Jesse Charles, who also had several established bands. We started practicing at his studio – he was our coach. However, we needed a bass player and a keyboardist. Jesse connected us with Ritchie Pickett (keyboard) and Ritchie brought in Joe Castellano (bass).
After some time, we moved to our own practice studio to an historic building adjacent to the California Theatre on South First Street in San Jose. This served as our studio for several years until we relocated to another studio in Campbell (we shared this studio with another incredible local band, "The Groove Kings". One thing I have to say, is that we practiced every Monday night from 6:00 pm to 9:30 pm! Rain or shine! No Monday Night Football for us!!!
The music of Black Pearl included The Doors, Rolling Stones, Tom Petty, Beatles, Eric Clapton, David Bowie, John Mellencamp, Cars, The Who and others from the '60s through the '80s.
Black Pearl started playing local clubs like: Number One Broadway, Mountain Charlie's, The Ritz, Blank Club as well as The Avalon and Club Fox in Redwood City. Eventually playing festivals such as Palo Alto and Mountain View Art & Wine Festivals, San Jose Rock & Roll Half Marathon, Music in The Park/Plaza de Cesar Chavez, Tapestry & Talent and many other venues. Personally, I loved to play smaller venues because I felt like I was part of the party on the dance floor instead of just the entertainment! We also played privates parties, special events and fundraising events for charitable causes.
Black Pearl was born through of a love of music, friendship and FUN!
Band Bios
JOE CASTELLANO – Bass
Joe Castellano started playing bass at the relatively advanced age of 20 when his roommate gave him a used Peavey. Joe was hooked, immediately signing on with a Genesis tribute band called Grand Parade, an outfit that paid homage to the early, Peter Gabriel-led days of the British rock heroes. That gig led to Castellano hooking up with the Raunch Band who specialized in Who and Led Zep covers in the Burlingame area.
Musical influences, aside from those mentioned above, are U.K. prog-rock heavyweights Yes, Pink Floyd and Camel, and Joe particularly admires bassists Chris Squire, John Entwistle and Stu Hamm. To keep the bass groove in the pocket with Black Pearl, Castellano uses a vintage Rickenbacker 4001.
When the music's over, Joe works at Hewlett-Packard, plays a mean game of golf and tools around town in a vintage Corvette. The rest of his spare time is spent shouting himself hoarse while baiting the referees at San Jose Sharks games.
DAN ORLOFF – Drums & Vocals
Dan Orloff was born the same year the phrase rock 'n' roll was coined (which means his birth date will always be shrouded in mystery). Music courses through his family's veins: his grandmother sang in Vaudeville, his dad is a well-known barbershop quartet singer. And his cousin via marriage is Bob Dylan, whose early career made Dan want to pick up the guitar. Early influences also included '60s icons the Beatles, the 4 Seasons and The Doors.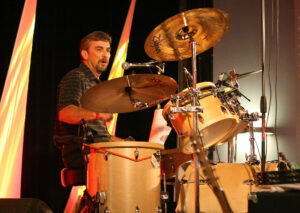 Growing up in Daly City, the peach fuzzed Orloff fell under the sway of Jefferson Airplane, Tower of Power, Syndicate of Sound and Count V and spent a few nights inhaling the magic at the Fillmore and Avalon Ballrooms. During the late '60s, Dan played rhythm guitar in schoolboy garage combos the Roughriders, the Outward Train, Outcasts of Society and the Great Lawless Basement Conspiracy—all flickering memories once he'd spent the three bucks a night he received for local gigs. He also conquered shyness through rock, certainly not a problem anymore.
In 1978, Dan appeared on ABC-TV's Name That Tune. He named it but failed to win enough bread to retire early. Orloff and a few pals formed Black Pearl, a fine classic-rock outfit in 2003, just as Dan turned 50. Since they couldn't find a drummer, Orloff borrowed a pair of sticks and began hammering away at the pagan skins. The rest is San Jose history.
Musical history preservation was the main reason Dan and good friend/musician Tom Muller co-founded San Jose Rocks in 2006, an organization dedicated to recognizing and honoring South Bay legends such as the Syndicate of Sound, Count V, People, Greg Kihn, Captain Mikey, Larry Norman and Paul Kantner, who once attended Santa Clara University and taught guitar in downtown San Jose.
Orloff uses the skills acquired as co-founder of Orloff/Williams marketing communications to further San Jose Rocks' mission: "to celebrate Silicon Valley's Role in Rock." As the throbbing pulse of Black Pearl, Dan also employs the pipes nurtured while singing barbershop harmonies with his dad as a backing vocalist with Black Pearl.
RITCHIE PICKETT – Keys & Vocals
Ritchie Pickett was raised in Oakland, so it's perfectly natural his roots in music spring from his days singing in the church choir. But, like almost every American under the age of 25, he was glued to the tube in February 1964 to check out the Beatles on The Ed Sullivan Show. Like thousands of U.S. teenagers, Ritchie immediately formed a band, the Out Of Sights, with Parker Elementary School pal Carlos Castañeda (alias Jesse Charles), with Ritchie on drums.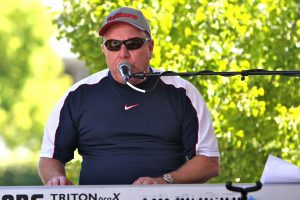 Thanks to Jesse's support (and five years of daily practice) Ritchie is back dong what he loves, this time as Black Pearl's versatile, ivory-tickling keyboardist. He's also added another weapon to his arsenal as the powerful alternate lead-singer/harmony vocalist for San Jose's topnotch classic-rock band.
Early musical influences include Led Zep and the inimitable Ray Charles. Locally, Pickett credits all his keyboard prowess to noted Bay Area jazz pianist Steve Czarnecki. When not seated behind the 88, Ritchie is a golf pro at Sunnyvale's Golf Tech and will be happy to take your spare cash on the course with his scratch game.
Recalling his most embarrassing musical moment is easy for Ritchie. Due to a repertoire mix-up at a mandatory assembly at Los Gatos' Union Junior High, he was pushed stage-front by his band's lead vocalist to warble, head bowed, an accopella version of the Monkees' "I Wanna Be Free." Pickett ran offstage afterwards, not waiting for the reviews of his peers. Ritchie can envision a Monkees number in Black Pearl's future, but he knows which tune it won't be.
JIM SALATA – Guitar & Vocals
Jim Salata is a Pennsylvania native who began singing in the early '60s with his mom who played piano and clarinet. Salata moved to Southern California in 1964, and became involved in church choir and the boys' chorus at Brea Junior High, where he also took keyboard lessons.
Jim taught himself guitar on a Guild acoustic which he still owns. His earliest live music was played around campfires or at friends' parties. While driving a truck in Los Angeles, he taught himself how to sing by emulating the vocals of Top Forty tunes played on KRLA and KHJ.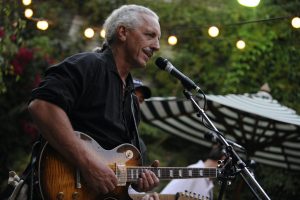 But Jim always dreamt of being a rock guitarist in the mold of Blue Oyster Cult's Buck Dharma, Joe Perry of Aerosmith and Deep Purple's Ritchie Blackmore. He's now living the dream every weekend as the leather-lunged frontman for Black Pearl. "There's so much energy and emotion in the covers we play, we well never get bored!" says Salata.
Jim owns a vibrant pair of complementary companies in San Jose: Garden City Construction, to help make Silicon Valley the sparkling enterprise it has become, and Buccaneer Demolition to get rid of the old. He spends what spare time he can muster hiking, boating and water-skiing.
JOE SCUNCIO – Guitar & Vocals
Joe Scuncio was born in Providence, R.I. and moved to Southern California when he was six. He picked up the guitar at the age of twelve and has been thoroughly immersed in rock 'n' roll and the blues ever since. While in SoCal, Joe was fortunate enough to catch plenty of rock legends during his formative years, including Jimi Hendrix, the Rolling Stones, Led Zeppelin, Eric Clapton, Buffalo Springfield, Janis Joplin with Big Brother, Tom Petty, the Allman Brothers and Santana.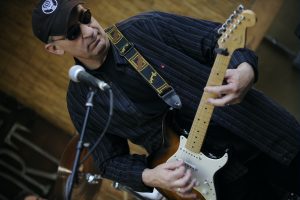 Joe graduated from Cal State Fullerton with a bachelor's degree in Sociology, a masters in Counseling/Psychology and a Counseling Credential. He moved to San Jose in 1983, where he is now a commercial real estate broker and Senior Vice President of Grubb & Ellis Company. Joe is particularly active in charitable, community, business and political activities. He resides in Willow Glen with his wife Andrea and daughter Jayne.
Scuncio writes his own music and collaborates on many musical projects. He thrives on playing live and enjoys feeding off the energy of a boisterous crowd. A founding member of Black Pearl, Joe plays rhythm guitar with some bottleneck, wails on harp and sings harmony with some lead vocals.
Joe is a pack rat; never tossing anything that might come in handy some day. He has enough memorabilia—including hundreds of autographed photos and LPs—to open a museum dedicated to the Summer Of Love. Of his prized musical gear, he particularly values a 1964 Fender Vibrolux Reverb amp he bought new in 1964. He still uses it onstage. Dating back to the acoustic roots of Black Pearl, Scuncio especially values "the friendship and fun of playing classic rock 'n' roll."
Practice. Practice. Practice.
It's a good thing that none of us were big NFL fans. We practiced nearly every Monday night for seven years. Thank you to our coach, Jesse Charles, for being so supportive, talented and encouraging.
Our First Gig. July 23, 2004, Children's Discovery Museum, San Jose
Our first gig was at our drummer, Dan Orloff 's, 50th birthday party. This was before we had Joe Castellano on bass. Jesse Charles stepped in.