World's First Radio Station
Doc Herrold launched worlds first radio station in downtown San Jose in 1909. And, coined the term "broadcasting". His radio station is now KCBS 740 AM.
Hear Doc's Voice
Charles Herrold, a pioneer in radio, was the first person to transmit radio programs of music and news to a listening audience. Beginning in 1909, three years before Congress' Radio Act of 1912, Herrold broadcast from his College of Engineering and Wireless located in the Garden City Bank Building at First and San Fernando Streets. His first wife, Sybil, was the first woman disc jockey in the country; together they initiated commercial radio advertising. A tireless experimenter, Charles Herrold developed more than fifty radio-related inventions.
Additional Did You Know's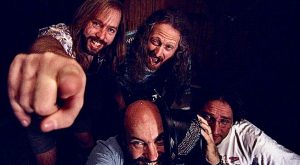 1993 – "We were using about have the available bandwidth of the Internet. With just us doing really really bad songs." Russ Haynes, Digital Equipment Corp. Severe Tire Damage was the first live band on the internet." Russ Haines, Digital Equipment Corp.