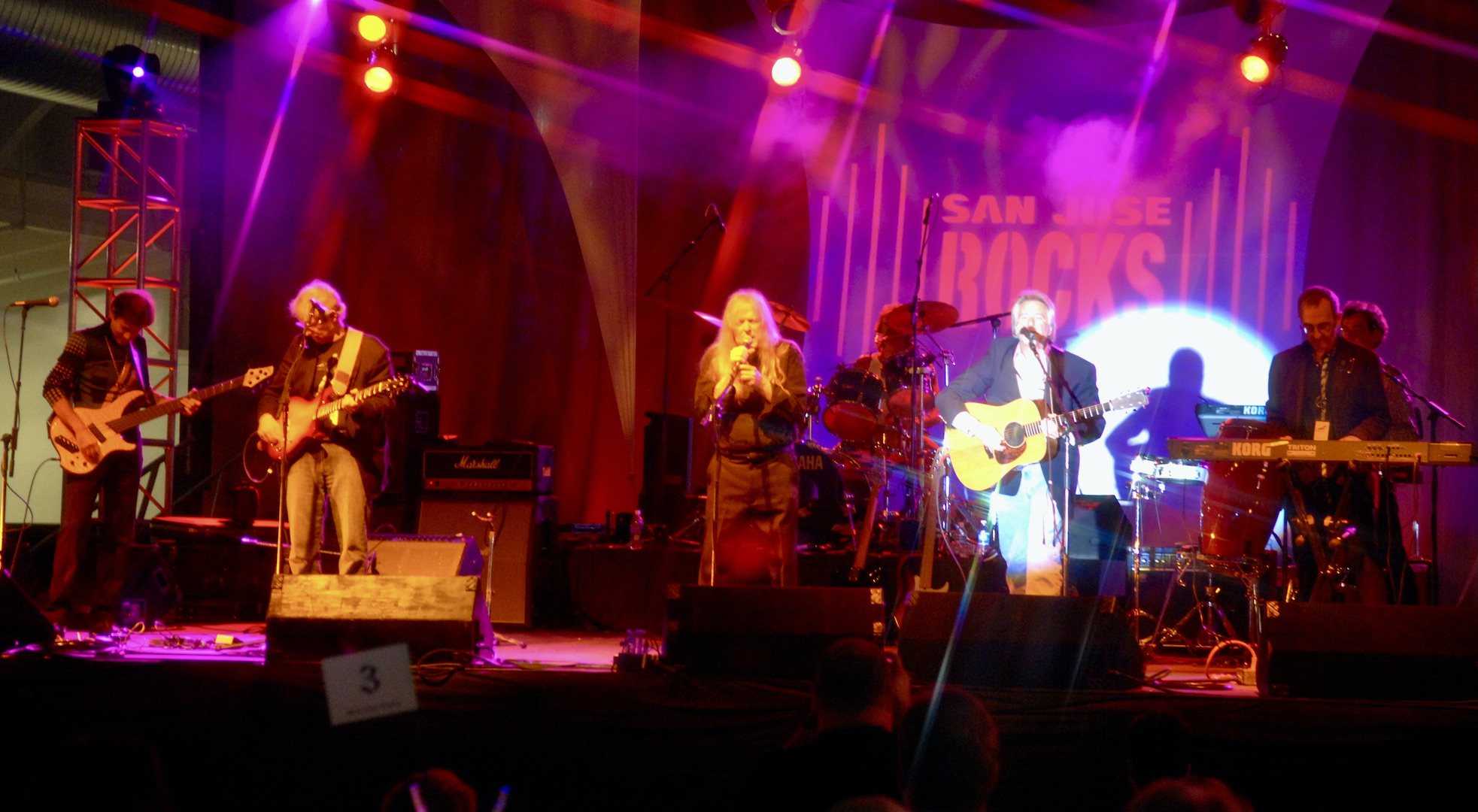 Produced by San Jose Rocks alum Captain Mikey, People's "I Love You" single vaulted into Billboard's Top 20 by the spring of 1968, then circled the globe as a chart-topper wherever it was released.
People!
rock band category
By Jud Cost 2007
One of the last great '60s bands hailing from the San Jose area, People followed in the homegrown tradition of such fabled South Bay combos as the Syndicate of Sound, Count Five, Chocolate Watchband, Mourning Reign and the E-Types.
Mikel Hunter Herrington, the legendary KLIV disc jockey known as Captain Mikey and the man who helped break the Syndicate of Sound's national smash "Little Girl" in 1966, agreed to manage People if they found a new lead singer. When high school pals Larry Norman and Gene Mason both sounded outstanding at an audition, Hunter suggested the band use both as front men. The rest of the classic People lineup would include guitarist Geoff Levin, Albert Ribisi on keyboards, bassist Robb Levin and drummer Denny Fridkin. Everybody agreed the name People-in contrast to the common practice of the day of anthropomorphic band names (Beatles, Animals, Byrds, Doors)-was a winner.
Produced by Captain Mikey, People's "I Love You" single vaulted into Billboard's Top 20 by the spring of 1968, then circled the globe as a chart-topper wherever it was released. Of course, "I Love You," originally a 1965 B-side by British pop maestros the Zombies, is a knockout. Penned by Chris White, bass player of the St. Alban's combo, the song, as were most Zombies melodies, is a minor-key gem, and it still resonates heavily today with Summer of Love vibrations.
But anyone who thinks People were just a vehicle for little-known Zombies songs should have a listen to I Love You, the San Jose outfit's first album. One of their debut LP's more remarkable tracks is Denny Fridkin's "Crying Shoes," which incorporates the familiar strains of Edward Elgar's "Pomp and Circumstance" march into a tune whose bridge is right out of the Absolutely Free album by Frank Zappa's Mothers of Invention.
And, not to be missed is "The Epic," a sprawling work-often compared to the Who's rock opera Tommy-that occupies the entire second side of People's debut longplayer. In reality, "The Epic," which features some dialogue in Spanish, wields a lighter touch than Tommy, more in the vein of an earlier extended work by the Who, "A Quick One While He's Away."
A full understanding of People also requires total immersion in Both Sides Of People, the band's second Capitol LP, cut in an era where albums not singles had the power to make or break an artist. Norman had left the band upon the 1968 release of their first album, reportedly because the record's name had been changed by the label from What We Need Is A Lot More Jesus And A Lot Less Rock 'n' Roll to what Capitol deemed a safer title: I Love You.
Although Larry Norman was gone, three of his tunes-in particular the brilliant, Small Faces-like "I've Got You On My Mind"-grace People's sophomore effort as testament to his songwriting prowess. But People soldiered on with Gene Mason now singing lead full-time, opening large concerts for the likes of the Doors, Janis Joplin and the Byrds. People had proved they belonged on the national stage, and they took full advantage of the opportunity.
People! founder and lead guitarist Geoff Levin's film: the saga of two brother's who form a well known band in the late 60's, only to abandon it at the height of the bands popularity to join a hardcore cult. This compelling story details the next fifty years of their lives, the devastating impact of the cult, and their always unpredictable, often volatile, frequently shocking, and ultimately heartwarming relationship with each other.
San Jose Rocks Hall of Fame Induction & Dinner – October 19, 2007
this is gallery three information