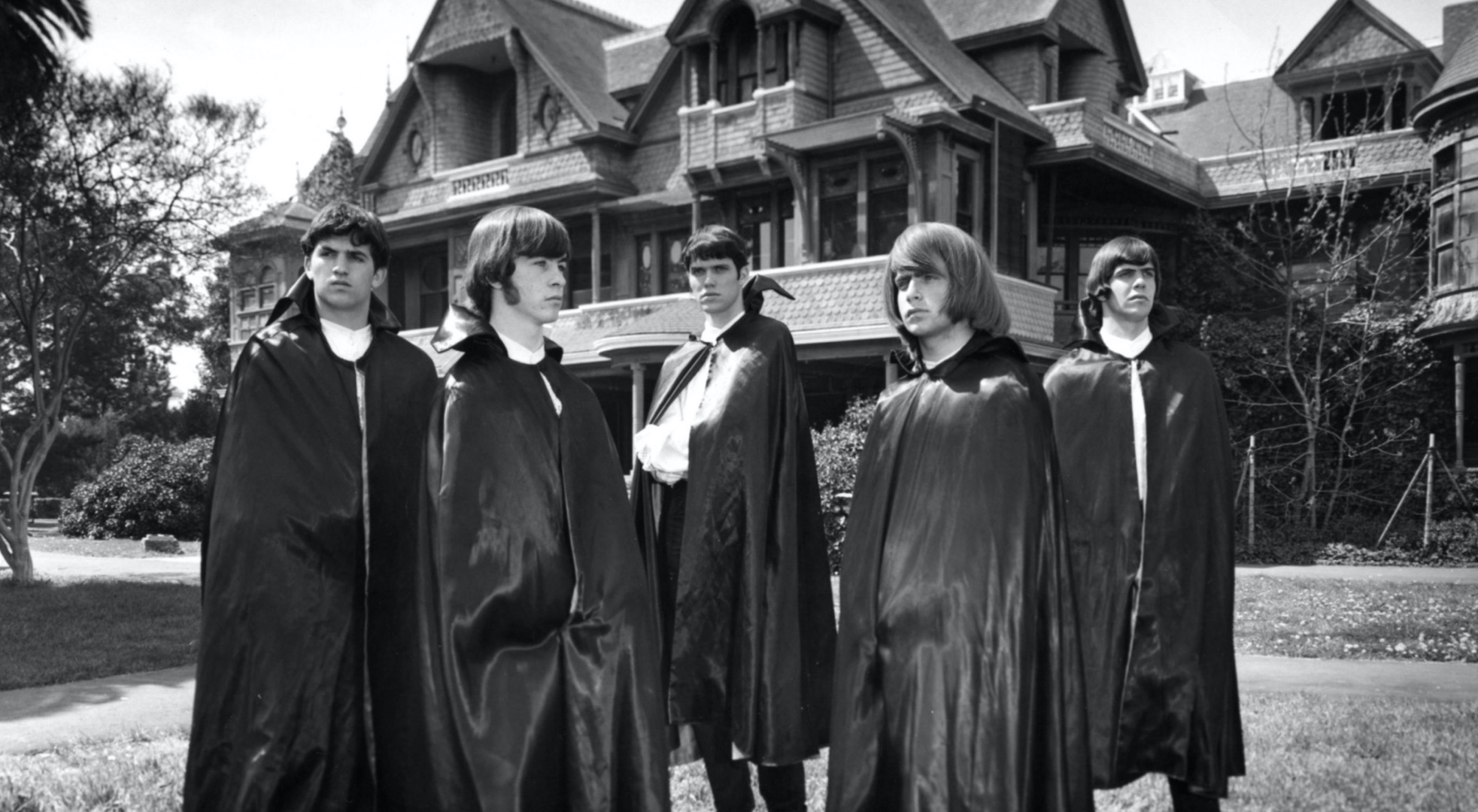 "The Rock and Roll Hall of Fame selected 'Psychotic Reaction' for their list of "500 Songs That Shaped Rock & Roll." Not bad for a one-hit wonder!" Went to #5 on Billboard in 1966.
Count V
Rock Band Category
By Jud Cost 2006
How "San Jose" can you get? The eye-popping, black-and-white 1966 press photo for San Jose's newest rock 'n' roll sensations-Count Five-was taken on the front lawn of the Winchester Mystery House with all five of the boys decked out in Count Dracula capes and puffy white shirts. You could almost see the ghost of Sarah Winchester in the background, rolling her eyes, then lowering her veil and tiptoeing back into her 160-room refuge.
Like the Syndicate of Sound before them, Count Five-lead singer and harmonica player Kenn Ellner, rhythm guitar/vocalist John "Sean" Byrne, lead guitarist John "Mouse" Michalski, bassist Roy Chaney and drummer Craig "Butch" Atkinson-would shock the world with one titanic hit, then spend the rest of its collective life either touring coast-to-coast or rolling tape in a recording studio, trying to find lightning in a bottle a second time.
"Psychotic Reaction," a searing slice of garage rock, was the song that punched Count Five's ticket to immortality. Credited to all five members, the tune was played as an instrumental for six months, reveals Ellner, before Sol Ellner, Kenn's dad (and the band's relentless manager), suggested that Byrne write some lyrics for it.
Byrne recalls a sleepy session of his Health Ed class during his freshman year at San Jose City College when a pal leaned over to him while their instructor droned on about psychosis and neurosis. "Do you know what would be a great name for a song? Psychotic Reaction!" whispered Ron Lamb to Byrne. "That was the missing punch-line for the song," says Byrne. He could hardly wait to get to band practice that night, new song lyrics in hand. By September of 1966 the tune had peaked at number 5 in the Billboard Hot 100.
Count Five rose from the ashes of a 1964 British Invasion-style combo called the Squires, all of whose members attended Pioneer High School. Michalski originally went to Blackford High but moved in with the Ellners so he could grow his hair and play rock 'n' roll. "Pioneer was cool in those days," says Ellner. "Other schools made you cut your hair."
When they added Byrne, a recent emigre from Ireland, they changed the name to Count Five, (no definite article required). Ellner was a huge fan of "Creature Features"-style monster movies and, with Byrne's help, came up with the band name as a nod to the legendary film vampire. "It was supposed to have a dual meaning," says Ellner: "Count as in Dracula and Count as in count the five of us." The puffy shirts idea, he adds, came from the 1963 film "Tom Jones" starring Albert Finney.
With "Psychotic Reaction"-released on the day Ellner and Chaney graduated from high school-blazing up the charts and the ink barely dry on their contract with Los Angeles' Double Shot Records, Count Five hit the road in the glorious summer of '66. On a nonstop tour that criss-crossed the entire country, they shared stages with the cream of the current pop world: the Beach Boys, Martha & the Vandellas, the Animals, Dave Clark Five, Sonny & Cher, the Hollies, the Temptations, the Byrds.
As well as playing "The Lloyd Thaxton Show," Count Five appeared on both of Dick Clark's towering television twosome: "Where The Action Is!" and "American Bandstand," the former filmed at Clark's house in the Hollywood Hills. "Dick actually helped me unload my drums and carry them in," Atkinson (who died in 2004) said in 1994.
Byrne recalls a landmark night at the Santa Monica Auditorium in 1966. "This new band called the Doors, with a lead singer named Jim Morrison, opened the show, then we played, and the headliner was Them with Van Morrison. It was a Morrison sandwich," he laughs. Count Five also logged plenty of fabulous nights back home in swinging South Bay teen venues like San Jose's Loser's South, Sunnyvale's Bold Knight and The Continental in Santa Clara.
It was on one of the Dick Clark broadcasts that Kenn Ellner made a startling revelation which got Clark's attention. Looking very much like the younger brother of Michael Landon, Ellner divulged that the band would be giving up one million dollars worth of bookings that fall to return to school. Clark, needless to say, lauded their sensible decision. "We also had to stay in school to stay out of the draft," adds Michalski.
With all these forces at work-parental pressure to stay in school, the Selective Service System and the lack of a dynamite follow-up single-it's not surprising that Count Five's days together were numbered. Michalski thinks the end came when he and Chaney failed to show up for a scheduled performance at Atkinson's sister's wedding. "Roy and I just decided to take a little break at the wrong time," says Michalski. Byrne thinks it was nothing so dramatic. "It just petered out," he says. "No more hits meant dwindling bookings."
"Psychotic Reaction" has recently been featured in films "Drugstore Cowboy" and "Less Than Zero" and has done very well on Classic Rock radio. Being named one of the 500 most influential rock 'n' roll records of all time by The Rock and Roll Hall of Fame in Cleveland is one sure sign that the song-and the San Jose band who played it-will live forever.
Rolling Stone Magazine, Dec 29, 2008
John Byrne, the lead singer of garage-rock band Count Five and the writer of their 1966 hit "Psychotic Reaction," died on December 15th following kidney and liver failure in San Jose, California. He was 61. Inspired by the Yardbirds' "I'm a Man," "Psychotic Reaction" peaked at Number 5 on the Billboard charts and became a radio staple during the Vietnam War era. "Psychotic Reaction" was also listed among the Rock and Roll Hall of Fame's 500 Songs That Shaped Rock & Roll.
The song proved to be the band's biggest hit, as the band broke up in 1969 so its members could pursue college educations. "Psychotic" lived on as a live staple for bands like Television, the Cramps and Tom Petty & the Heartbreakers, who included a cover version on their Playback box set. Byrne went on to become an accountant but never stopped playing music, even forming the Count with some former Count Five bandmates in 2002. The Count Five reunited for one night only in 1987, and were among the first inductees into the San Jose Rock Hall of Fame in 2006.
San Jose Rocks Hall of Fame Induction & Dinner October 20, 2006