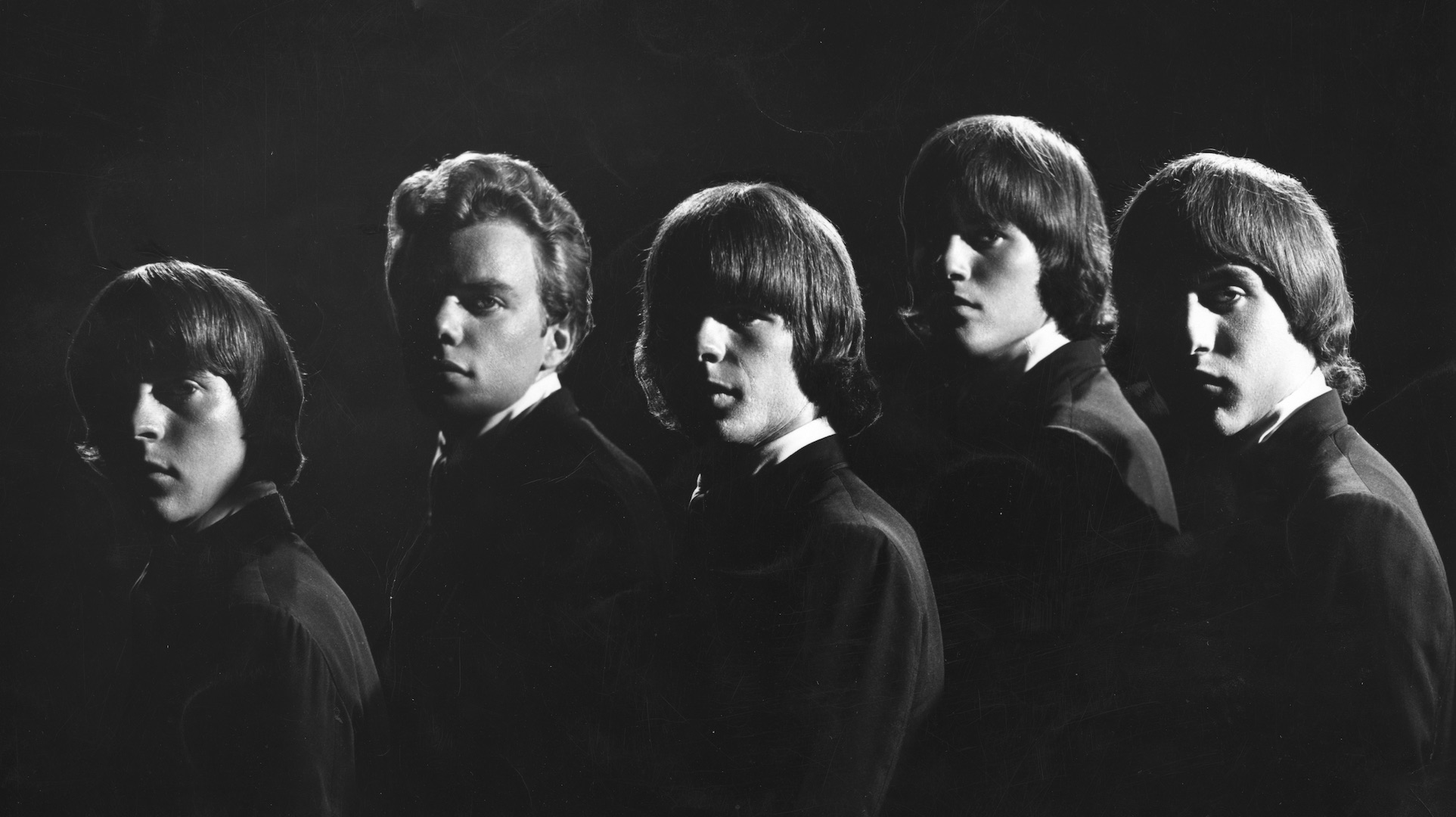 If any one song summed up the swaggering teenage spirit of 1966-the year revered by rock historians as the fountain head of what is now called "garage rock", it was "Little Girl" by the Syndicate of Sound – hitting #8 on Billboard.
Syndicate of Sound
By Jud Cost, 2006
If any one song summed up the swaggering teenage spirit of 1966-the year revered by rock historians as the fountainhead of what is now called "garage rock"-it was "Little Girl" by the Syndicate of Sound. With its sneering, adenoidal lyrics, talk-sung by front man Don Baskin, the Syndicate's national Top Ten hit also showcased the dizzying 12 string guitar work of original fretboard man Larry Ray, the solid rhythm guitar of John Sharkey, the thumping bass of Bob Gonzalez and the exhilarating drums of John Duckworth.
Formed in San Jose, Calif. in 1964 by fellow Camden High School grads Gonzalez and Baskin, the Syndicate soon became one of the premier U.S. rock 'n' roll bands and an early harbinger of psychedelic rock yet to come. They established a national following based on one massive 1966 hit, "Little Girl," a song that would open many doors for the combo. Predecessors to the Syndicate of Sound were gritty R&B outfits called the Pharaohs and Lenny Lee and the Nightmen. After winning a 1965 Bay Area "Battle of the Bands" the Syndicate cut an unsuccessful single for Los Angeles label Del-Fi called "Prepare for Love." But the best was yet to come.
On January 9, 1966, the Syndicate of Sound recorded "Little Girl"-penned by Gonzalez and Baskin-for Hush Records at a studio in San Francisco. Produced by Sunnyvale's Garrie Thompson, a Lockheed co-worker of Gonzalez' dad, it became a regional hit in California when San Jose radio station KLIV latched onto it. The disc soon caught the ear of Bell Records in New York, who picked it up for national distribution and later would ask the group to record an album.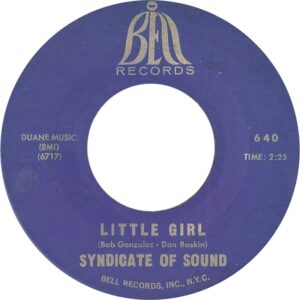 "Little Girl" began to break nationally in Oklahoma City and entered Billboard Magazine's Top 40. Just before the single broke nationwide, original guitarist Larry Ray left the band and was replaced by Jim Sawyers. Since Bell was eager to get their newly-inked group on the road, the Syndicate toured nonstop for the latter half of 1966, taking time off only to tape TV shows like Dick Clark staples "American Bandstand" and "Where the Action Is!" James Brown, who appeared with the Syndicate on one of the Clark broadcasts, was so impressed that he invited them to open his Cow Palace show in San Francisco later that year.
Rather than risk being drafted, drummer Duckworth joined the 6th Army Band late in 1966 and was replaced by Carl Scott. The pressures of constant touring and the need for a follow-up hit caused tension within the group that ended with John Sharkey's departure.
As a four-piece, the Syndicate of Sound returned to the road and toured with a number of notable pop acts, sharing stages with: the Yardbirds, Mitch Ryder & the Detroit Wheels, Neil Diamond, Paul Revere & the Raiders, the Association, ? and the Mysterians, Janice Joplin, Jefferson Airplane, Sam the Sham and the Pharaohs, the Left Banke, the Rascals and many others.
"Little Girl" topped out at number 8 on Billboard in May of 1966, and the group would record three additional singles through 1969: "You're Lookin' Fine" (a Kinks cover), "Brown Paper Bag" and "Mexico." By 1970, Baskin-the only remaining original member of the band-moved to Los Angeles, mounted an unsuccessful attempt at recording an album for Capitol Records, then disbanded the group.
Over the years, other artists have recorded "Little Girl," notably England's the Banned, who made it a 1977 Top Ten U.K. hit and a "Punk Rock" staple. The Divinyls made a video of their single, "Little Boy" (a gender change from the original title) which became a hit on MTV, and Dwight Yoakam featured the song on his 1999 album "La Croix d'Amour." When a new radio-programming concept called Classic Rock began blowing the dust off hits from the '60s, "Little Girl," was a natural for the new format. Soon to reach its one millionth radio play, "Little Girl" has only spurred renewed interest in the Syndicate of Sound.
In 1990, founding members Bob Gonzalez and Don Baskin along with John Duckworth, put the band back together. They drafted both Jim Sawyers to play guitar and South Bay music legend Ned Torney for keyboard duty. Sawyers had been with the band for all the heavy touring after "Little Girl" became a hit. After the passing of Ned Torney in the fall of 2005, Larry Ray rejoined the band on guitar. With its current line-up, the group now features five of its original members.
In 1995, Gonzalez, Baskin & Co. were informed by the Rock and Roll Hall of Fame and Museum in Cleveland that they were installing a plaque with the band's picture, citing "Little Girl" as a pivotal song in the history of rock 'n' roll. As part of the exhibit, a tape-looped recording of "Little Girl" played at 20-minute intervals, thus validating the group's status as one of Rock 'n' Roll's most enduring "One Hit Wonders."
"Little Girl" was picked up by Touchstone in the spring of 2002 to be featured in its movie "Sorority Boys," and Dick Clark spotlighted "Little Girl" in recent episodes of his NBC-TV series "American Dreams." The ongoing popularity of "Little Girl," and their cult status as one of the greatest garage bands ever, has assured the Syndicate of Sound of its permanent lofty niche in Rock 'n' Roll history.
March 2021: Where are they now?
John Duckworth, John Sharkey, and Larry Ray are retired from music.
Don Baskin passed away unexpectedly in October 2019.
Jim Sawyers is still performing, toured Europe July 2019.
Bob Gonzalez performs regularly in the San Jose area, as well as heading up the Fountain Blues Foundation and its San Jose Fountain Blues & Brews Festival.
"Our first show with Paul Revere and the Raiders was here in San Jose, at the Civic Auditorium. We hit it off well and their manager liked us so, it was a natural for him to recommend us for some of their tours. "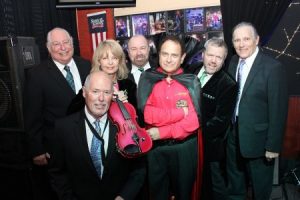 San Jose Rocks Hall of Fame Induction & Dinner October 20, 2006
In time, all of these photos will be captioned. Until then, thank you to the professional photographers who donated their time to capture these wonderful moments: Frank Anzalone, Mark Fenichel, Dave Lepori and John Paulson. And to Dave Choice of ChoiceWay Media for the awesome video.
More Video Action
The Syndicate Of Sound - Night And Day
Syndicate of Sound - LOUIE LOUIE, Live 1965 at Frontier Village, San Jose
Not the Real Syndicate of Sound
It wasn't uncommon for unscrupulous bookers to book a band that was on the rise but actually not book the real band. This happened to Syndicate of Sound several times. Note the poster reads 'Little Me' not 'Little Girl'.