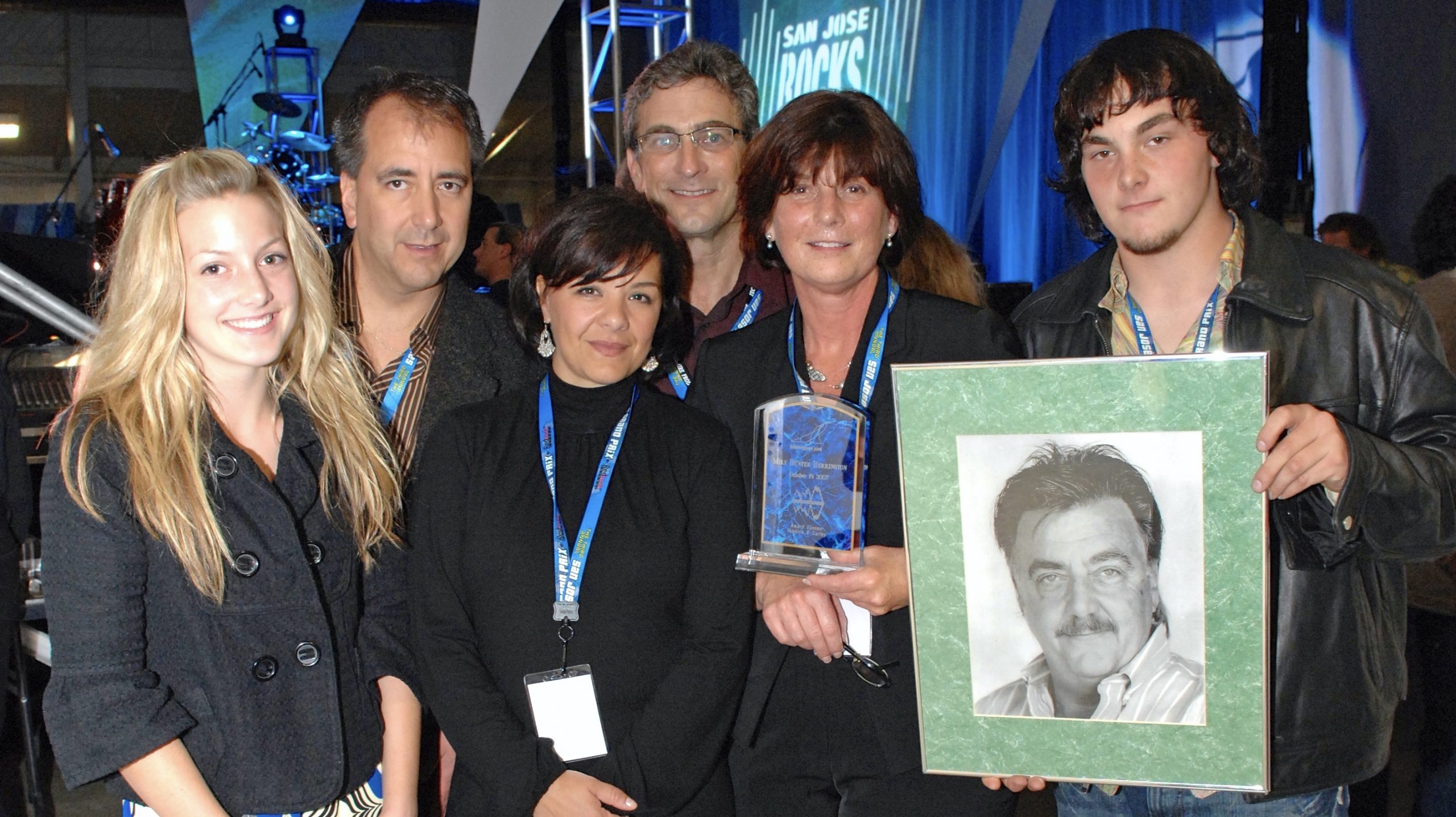 As Captain Mikey, from 1966 -1969 he held crazy contests and snuck guests into the nighttime studio, making Top 40 KLIV-AM (1590) the first San Jose station to beat its San Francisco competitors.
Mikel Hunter Herrington
Radio Legends
By Brad Kava 2007
San Jose radio pioneer Mikel Hunter Herrington was a guy who broke the rules, and in doing so, taught people new ways to program radio stations.
As Captain Mikey, from 1966 -1969 he held crazy contests and snuck guests into the nighttime studio, making Top 40 KLIV-AM (1590) the first San Jose station to beat its San Francisco competitors.
He brought the branding he learned from AM radio over to rocker KOME- FM (98.5) from 1977-1983 making that station one of the most well- known in the country. You only have to look today at the station bumper stickers and T-shirts still around, to know how strong a brand it was and still is.
"He taught me that a radio station is more than music," says Jang. "Before him, FM radio was about DJs being almost musicologists. There was no imaging, no production pieces, no promotions, other than giving away copies of the latest album."
But Herrington had chicken flying contests, with birds pushed out of mailboxes with a toilet plunger. On April Fool's Day he told listeners to cover up their telephone receivers because the phone company was cleaning out the lines and would be blowing dust through them. And he led his whole staff to the homes of listeners to crash their parties.
He mixed irreverence with a keen ear for music, always teaching that radio had to have attitude to be remembered.
"Consider that KOME – a radio station – became one of the Bay Area's premier brand names and, to this day, enjoys tremendous recall long after the station's lights were switched off," says Bob Ray, who was morning man at KLIV when Herrington was on KOME.
"At that time, there wasn't simply a scent of change in the air regarding the state of radio. It was a fucking hurricane and the man at the center of that maelstrom in San Jose – and the Bay Area – was Mike Hunter."
He was as original as the spelling of his first name, and as buoyantly chameleonlike as the host of aliases he appeared on the airwaves with.
San Jose mostly knew him as Captain Mikey and Lefty, but in a career that took him to both coasts, the south and the southwest, he was also Mikel Hunter, Motorcycle Mike and Hot Rocks Hunter.
Herrington was immortalized in the movie "FM," a movie written by Ezra Sacks, one of his former staffers at Los Angeles' KMET, who based the character of the fictional program director on his former boss.
"He had the reputation disclosed to me after he left, of not paying too much attention to the rules" recalls KLIV owner Bob Kieve. "He had guests in the studio constantly at night, which was against the rules. I call him a man of the sixties. He changed his appearance about once a month. He was a cynical guy, and bright, very bright.
He was born Marion Elbridge Herrington in Florence, South Carolina and died of leukemia in 1997 at the age of 62. An itinerant radio devotee, he worked at radio stations in New Bern, North Carolina; Jackson, Mississippi; Dallas; Boston; Tucson; San Diego; Los Angles; Phoenix; Philadelphia, Iran and Napa.
Mikel also promoted San Jose recording artists Syndicate of Sound and People by performing both booking and management duties as well as record production for both acts while on Capital Records.
And he discovered, trained and influenced radio talents who have gone on to their own glory, including KFOX program director Laurie Roberts; KEZR and KBAY program director Dana Jang; KLIV manager John McLeod; DJ and wildman Dennis Erectus; KUFX ad salesman Mark Fenichel; KCBS production director, Jack Perry; Rob Singleton, operations director at Santa Rosa's KJZY and Kelly Cox, with Westwood One and KLOS in Los Angeles, just to name a few.
He was a stern manager, who expected his staff to work as hard as they partied.
In the words of Bob Ray, a competitor and friend: "We radio folk share a delightfully dysfunctional dynamic but Mikel wore the chief's headdress, hands down with second place light years behind."
Mikel Hunter Herrington, the legendary KLIV disc jockey known as Captain Mikey and the man who helped break the Syndicate of Sound's national smash "Little Girl" in 1966, agreed to manage People if they found a new lead singer. Produced by Captain Mikey, People's "I Love You" single vaulted into Billboard's Top 20 by the spring of 1968, then circled the globe as a chart-topper wherever it was released.
San Jose Rocks Hall of Fame Induction & Dinner – October 19, 2007