Conversation Date:  May 17, 2022
A nice visit today at Guitar Showcase in San Jose with David Zimmerman a.k.a. DZ and Jack Van Breen, these two guys have been at Guitar Showcase for over 80 years combined. We're going to take a look back at an institution that shaped some great musical acts and a look forward to Guitar Showcase's new showroom – a guitar heaven with over 650 guitars to choose from including some very hard-to-find custom guitars.
Here's a glimpse at some of their notable clientele over the years.
Andy Just (harmonica)
Bob Gonzalez, Syndicate of Sound
Brad Gillis
Bruce Springsteen
Buckethead
Chris Stapleton
Doobie Brothers
Dredg
Elvin Bishop
Gary Smith
Gigi Gonaway
Grateful Dead
Jerry Miller
Jimmy DeGrasso
John Tristao
John Wedemeyer
Keith Emerson
Lady Bo (Peggy)
Lyle Workman
Molly Hatchet (band)
Mick Mars
Paul Keller
Robert Berry
Roger Steen
Ronnie Montrose
Sammy Hagar
Sam Means
Sinbad
Sir Paul McCartney
Smash Mouth
Steve Miller
Steve Wozniak
William Randolph Hearst III
Y&T
Yvette Young
Click here for a recent article about Guitar Showcase's new store.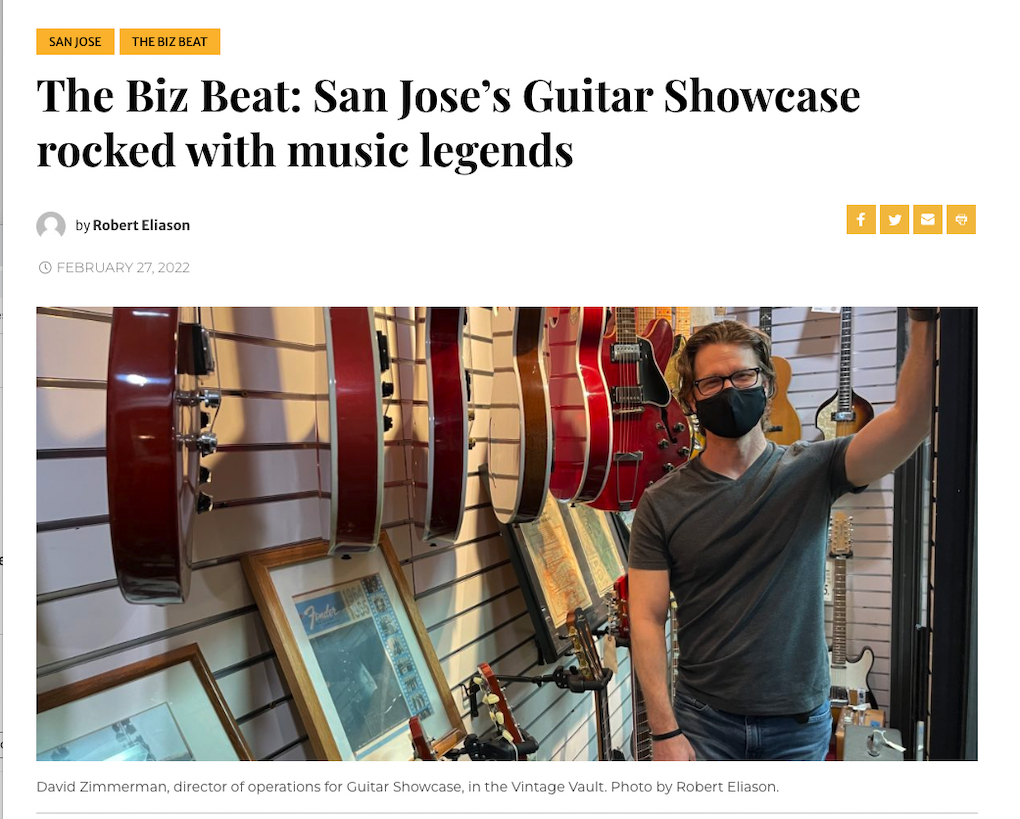 2006. Guitar Showcase owner Gary Wineroth shares news about San Jose Rocks' Hall of Fame dinner and induction ceremony.