South Bay Deserves Much of the Credit Accorded S.F. for '60s Bands
August 20, 2003  By Mark Purdy, Mercury News
Injustice is never pretty, even when it's psychedelic.
A few years ago, local attorney Kenn Ellner visited the Rock and Roll Hall of Fame in Cleveland. He sat down to view a movie tribute to San Francisco's "Summer of Love" in 1967. In the film's opening seconds, a distinctive fuzz guitar and harmonica riff floated across the soundtrack.
"Hey," Ellner thought. "That's our song."
The tune was "Psychotic Reaction," recorded in 1966 by the Count Five, a band Ellner helped form — in San Jose, not San Francisco. In fact, none of the Count Five members ever lived in San Francisco. So how dare the Rock Hall of Fame falsely proclaim them to be a San Francisco band?
Surely, you know the answer. The situation was no different 35 years ago when the Count Five rode their song — which reached No. 5 on the Billboard chart — to appearances around the country.
"They would say we were from San Francisco because they didn't know where San Jose was," remembered Roy Chaney, the band's bassist.
Makes you want to smash some guitars, doesn't it? Everyone knows that San Jose's inferiority streak can run deeper than Keith Richards' wrinkles. In this case, there is a legitimate beef.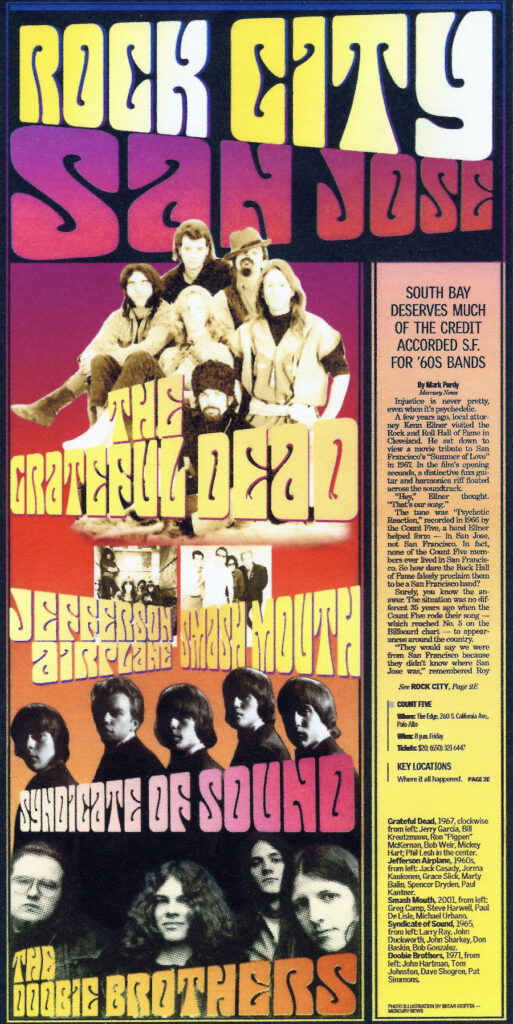 Say it loud: We're Area Code 408 And We're Proud. San Jose's rock 'n' roll history is as thick and as significant as any city in America. But few people realize this, because nobody makes movies or television specials about it — or writes newspaper stories about it.
Time to correct the error. Friday night, the Count Five will play its first show in 16 years, a reunion gig at The Edge nightclub in Palo Alto. What better occasion to step up and scream about San Jose — and the South Bay's – — neglected rock 'n' roll reputation?
There is a ridiculous amount of screaming to do. Two of the alleged "San Francisco" bands — the Grateful Dead and Jefferson Airplane – were populated mostly by South Bay musicians. In fact, the Grateful Dead's first appearance under that name happened in 1965 in downtown San Jose. Bob Dylan played a show in San Jose before he ever sang in San Francisco. Half of Creedence Clearwater Revival attended San Jose State and honed some chops there. Influential groups such as the Syndicate of Sound, People, Chocolate Watchband and Harpers Bizarre had South Bay roots.
And that only covers the 1960s. During the 1970s, the Doobie Brothers smoked themselves out of a house on 12th Street to sell millions of records. Stevie Nicks, another former SJSU student, gave Fleetwood Mac the witchy pathos to sell millions of records. More recently, Smash Mouth broke out of the South First Street bars to gain international fame.
So which city is it, again, that deserves to be called the Bay Area's capital of rock 'n' roll procreation? Tourists in San Francisco routinely visit Haight-Ashbury to gaze at the Grateful Dead's "birthplace." Maybe they would be interested to know that Jerry Garcia and Bob Weir first began plucking guitars at Palo Alto music stores and coffeehouses.
Granted, today's live music scene in San Jose is struggling. But cycles repeat themselves, and the young local musicians could do worse than study their ancestors. The reconstituted Count Five at Friday's show will feature three members of the original band — Ellner, Chaney and guitarist John "Mouse" Michalski — along with guitarist Phil Indovina and drummer Rocco Astrello. Original drummer Butch Atkinson has died, and original guitarist John Byrne decided to decline a full-fledged reunion but has been invited to sing a few songs with the band Friday. Don Baskin, the Syndicate of Sound's lead singer, may also show up for some guest vocals.
And don't worry. The Count Five's trademark Dracula-style capes, worn by the band for a famous jacket-sleeve photo in front of the Winchester Mystery House, will also be on the bill. Michalski kept the original capes in a closet at his house, ready for use when Chaney sparked the idea for a reunion before they get too old.
"I just called up the guys and told them, `If we're ever going to do it, now's the time,' " said Chaney.
The idea, he said was goosed by a British company that has just released a CD featuring the remastered original master tapes of Count Five recording sessions. They'll also be on sale at the show. In the comprehensive CD liner notes, Byrne properly disses the San Francisco bands by saying: "Those groups from the city always looked down at the South Bay and treated us with disdain."
Not after today, they won't.
What Say You Mark?
   "When I moved to San Jose in 1984, I was fascinated to learn that it was the often-uncredited spawning ground for so much great rock music of the 60's and 70's. It turns out that while San Francisco was busy admiring itself in the mirror, San Jose was doing a lot of awesome grunt work to construct the framework of that era's Bay Area sound. For me, researching and documenting the origins of the South Bay bands and the music they created has been a fun archeological expedition. If San Francisco is considered the King Tut's tomb of Bay Area rock history, then the South Bay and San Jose are the tomb's antechambers full of glorious untold treasure. San Jose Rocks exists to explore and honor that treasure."
Mark Purdy, March 5, 2021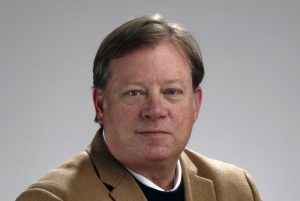 About Mark Purdy
Mark Purdy spent 43 years as a sports reporter and columnist for the San Jose Mercury News, Los Angeles Times, Cincinnati Enquirer and Chicago Tribune. But in addition to covering 14 Olympic Games and 34 Super Bowls, he also wrote stories or news columns about politics, music and food. He had lunch with Muhammad Ali, played golf with Neil Armstrong and discussed baseball with Alice Cooper. Since his 2017 retirement from the Mercury News, he has taught at San Jose State and Santa Clara University while also writing freelance magazine articles and video scripts. On multiple occasions during his career, Purdy was named one of America's Top 10 sports columnists by the Associated Press Sports Editors and was cited by the Wall Street Journal for writing one of America's Top 10 sports columns. In 2011, the California Newspaper Publishers Association honored him for writing the state's best newspaper column in any category.  He was a member of the Mercury News staff that received a Pulitzer Prize for its coverage of the 1989 Loma Prieta "World Series" earthquake that struck just before Game Three at Candlestick Park. Purdy is a native of Celina, Ohio, and a graduate of Northwestern University's Medill School of Journalism.